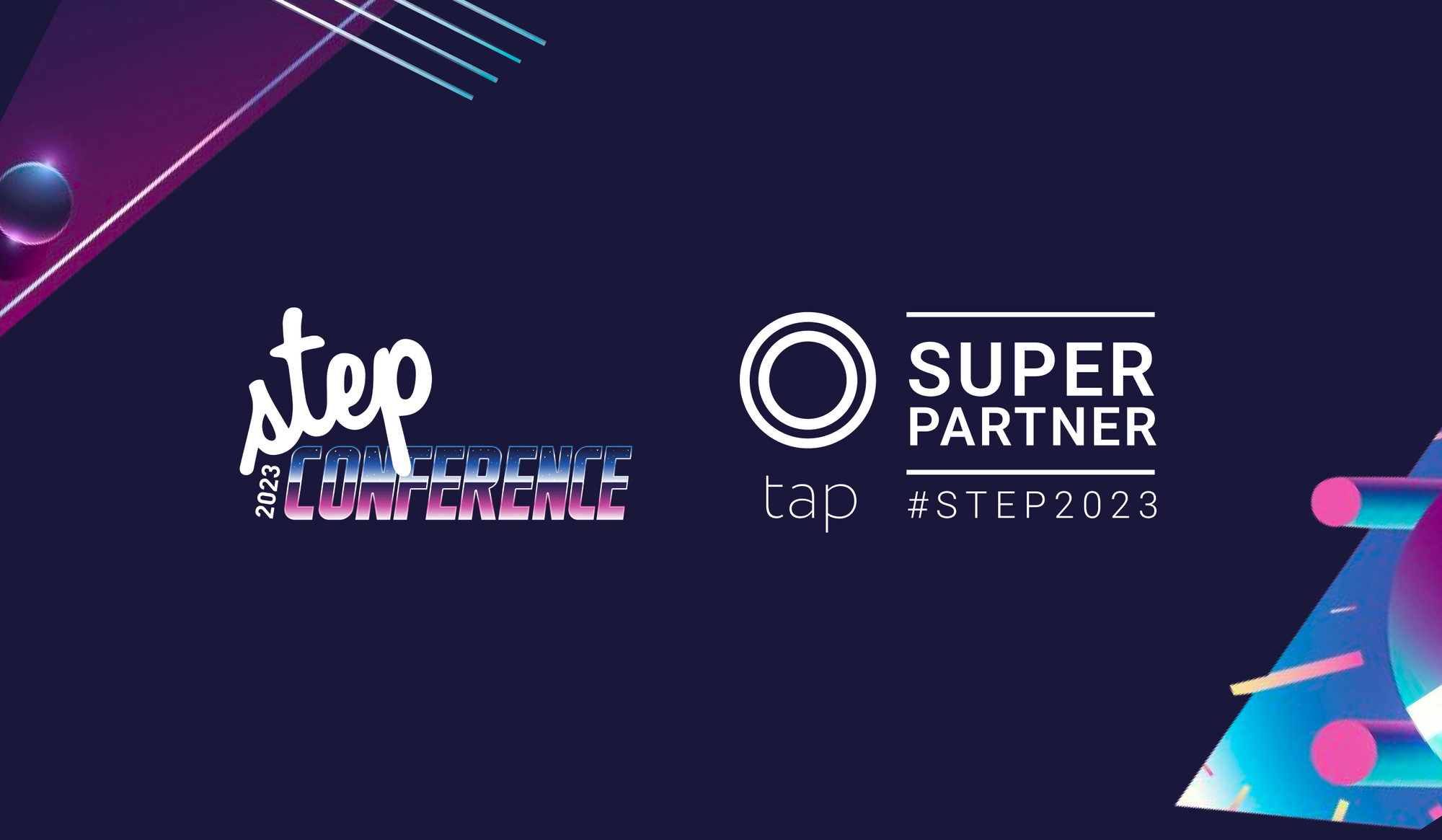 Discover the latest fintech trends with Tap Payments at Step Dubai 2023
As a leading player in the fintech space, Tap Payments is always on the lookout for exciting events and happenings in the tech world. And we're thrilled to announce that we're partnering with Step Dubai 2023 as the Super Partner and the Fintech Partner!
Step Dubai is the hotbed of all things tech, payments, and innovation. With 11 years of experience behind it, this event promises to be bigger and better than ever before.
Read on to learn more about what you can expect at Step this year!
Join 400+ Startups and Explore the Future 🚀
Discover the latest trends and innovations that will shape the future of business at Step 2023. With over 400 startups participating, you'll have the opportunity to network with entrepreneurs and explore new technologies that are changing the game.
Step After Hours: Satellite Events and Fun Meet-Ups 🥳
Keep the excitement going after hours with our fun and engaging networking events. Whether you're looking to make new connections or just have a good time, we've got you covered. Check out our schedule of satellite events and meet-ups to see what's in store.
Entertainment and Interactive Experiences 🥳
At Step 2023, there's always something new and exciting to discover. From delicious ice cream to free headshots, our exhibitors and partners are ready to entertain and engage you. You can also join an expressive movement session on our Wellness Stage, or meet a sorting robot at our Exhibitor IQ. The possibilities are endless!
Fuel Your Business with Connections and Ideas ⛽
Step 2023 is the ultimate destination for entrepreneurs and business professionals looking to grow and succeed. With over 8,000 attendees, you'll have ample opportunities to network, connect, and discover new ideas and strategies that can take your business to the next level. Don't miss out on the chance to fuel your journey with new connections and insights at Step 2023.
The key themes explored over the 2 days
There are 6 key tracks that will take place at the event:
Start Track: focuses on growth & scalability, investment & finding, solopreneurship, and acquisition & IPOS.
Fintech Track: highlights regulations, digital assets & NFTs, fintech, and payments.
Future Track: contains discussions about AI, e-cars, sustainability, and the cloud.
Digital Track: emphasizes media, ad tech, creators, and streaming.
Wellness Track: talks about health, fitness, femtech, and lifestyle.
Earth Track: discusses green tech, sustainability, and impact.
Tap Payments is also powering The Fintech Village and Fintech Stage at Step Dubai 2023!
Meet the founders of some of the most innovative fintech startups at the Fintech Village, powered by Tap Payments at #Step2023.
As a leading payment provider, Tap Payments is dedicated to supporting the growth of the fintech ecosystem in the region, and by powering the Fintech Village and Fintech Stage at Step Dubai 2023, they are helping to create a platform for collaboration and growth.
At the Fintech Village, attendees can expect to engage with some of the most promising fintech startups, as well as established players in the industry. They will have the chance to learn about new technologies, explore innovative business models, and network with other like-minded individuals. Additionally, the Fintech Stage will feature talks and panel discussions with thought leaders in the fintech space, providing valuable insights into the future of the industry and the challenges and opportunities that lie ahead.
Big Speakers, Bold Ideas 🎤
Prepare to be inspired by our lineup of industry experts and thought leaders. From technology and innovation to digital and fintech, speakers will share their insights and expertise on the topics that matter most. Experts from Tap Payments are also going to be in some interesting panels and workshops!
Ahmed AlAradi on Day 1 at the panel: Embracing the fintech revolution through innovative platforms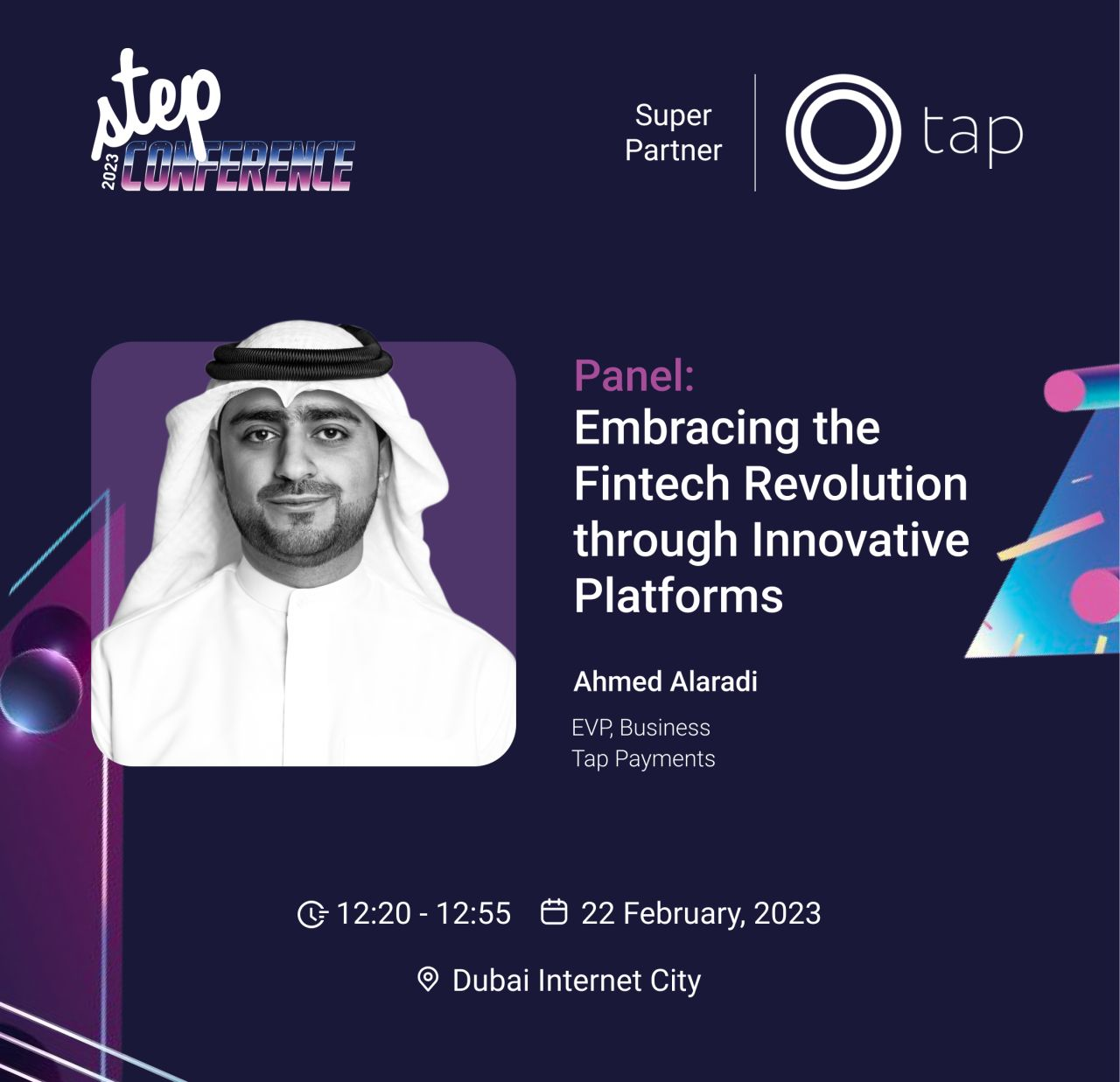 As part of our commitment to supporting the ecosystem and enhancing it in every way we can, Tap Payments will be sending some of our top experts to the event. Ahmed AlAradi, the EVP of Business at Tap Payments, will be hosting a panel discussion on day 1 titled "Embracing the Fintech Revolution Through Innovative Platforms". This panel will explore fintech trends and developments, and will also feature speakers from other big fintech players such as Zoho and Foodics.
Ahmad AlWazzan on Day 2 at the panel: Fintech solutions changing the eCommerce play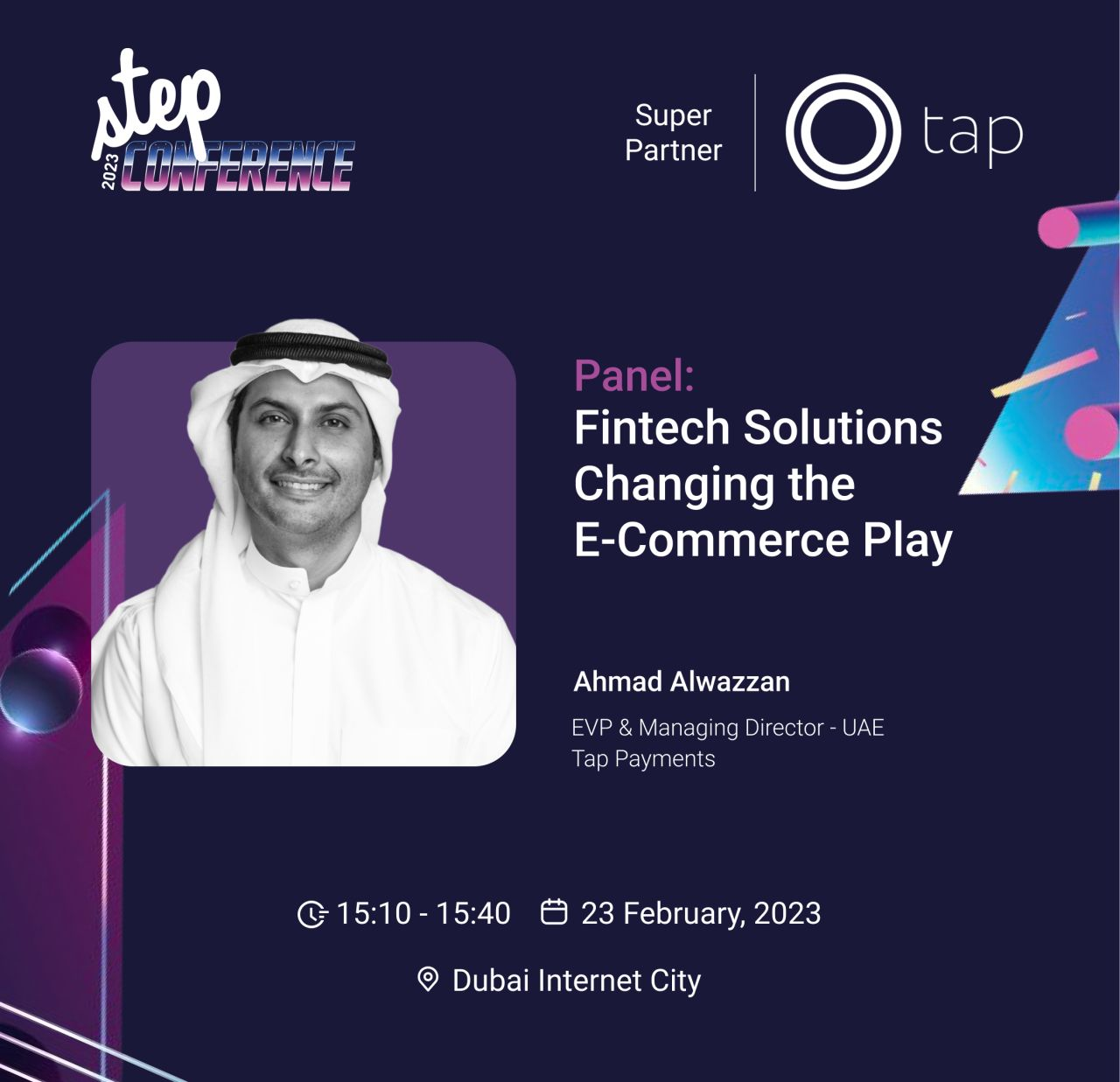 Ahmad AlWazzan, our EVP and Managing Director in UAE, will be taking the stage on day 2 of the event, in a panel discussion titled "Fintech Solutions Changing the eCommerce Play". This panel will explore the different ways you can implement fintech solutions to scale your eCommerce business.
Ahmed Sameh on Day 1 at the workshop: Decoding digital advertising for startups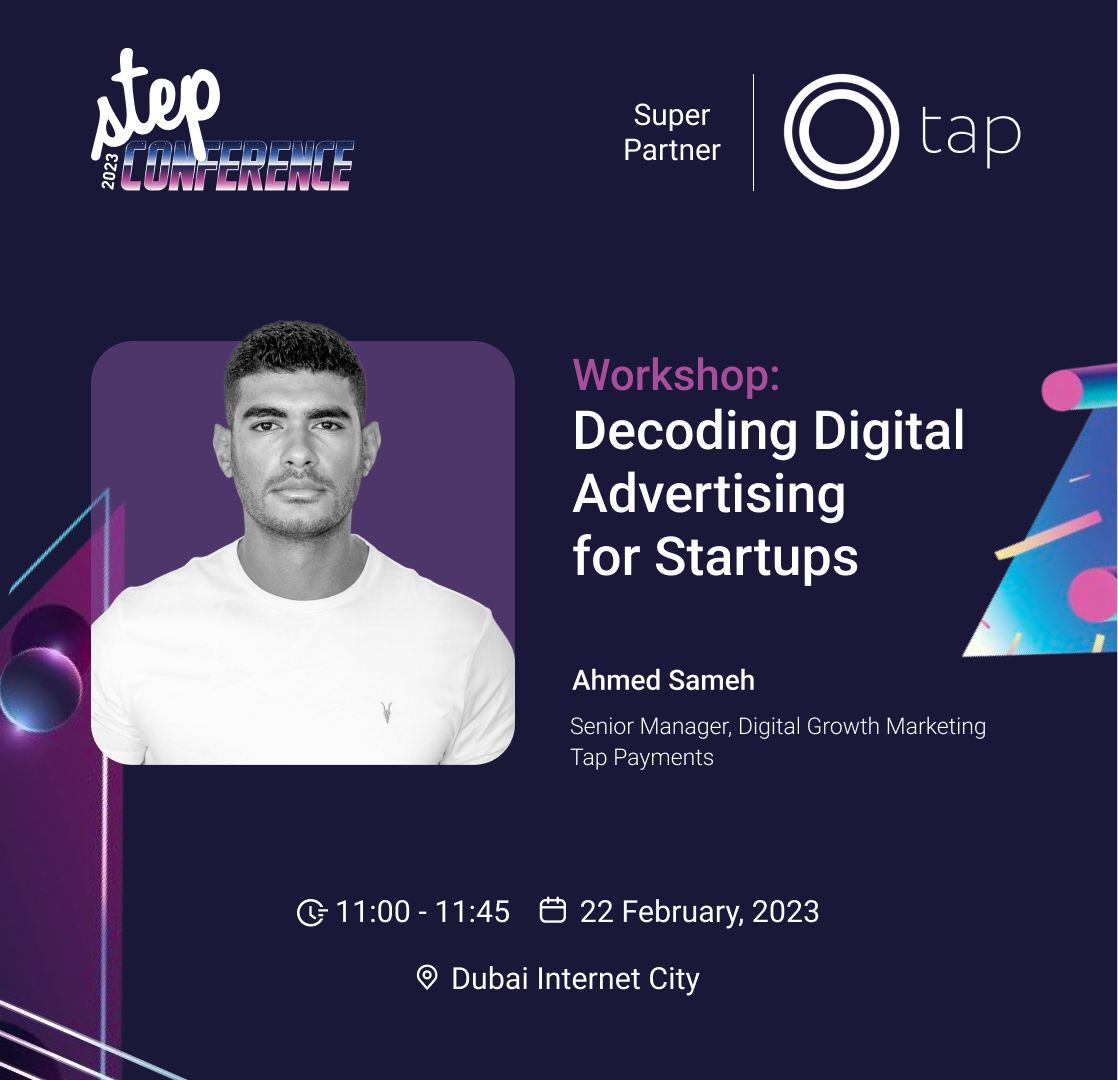 And that's not all! Ahmed Sameh, the Senior Digital Growth Manager at Tap Payments, will be leading a workshop called "Decoding Digital Advertising for Startups" on day 1 of Step. This workshop is an amazing opportunity to learn the ins and outs of getting your startup off the ground and running.
Mentorship opportunities with Martin O'Leary, Group Head of Marketing & Azra Ahmed, Group Head of Compliance.
Come get your questions answered by Martin O'leary, our Group Head of Marketing, and Azra Ahmed, our Group Head of Compliance, who will also be participating in mentoring sessions with aspiring entrepreneurs and startups. It's just one of the many exciting things to look out for at Step Dubai 2023.
All you need to know
If you're coming by #Step2023, here's all you need to know:
When: February 22 & 23, 2023
Where: Dubai Internet City Amphitheater
Buy ticket: HERE
See you all there!
---