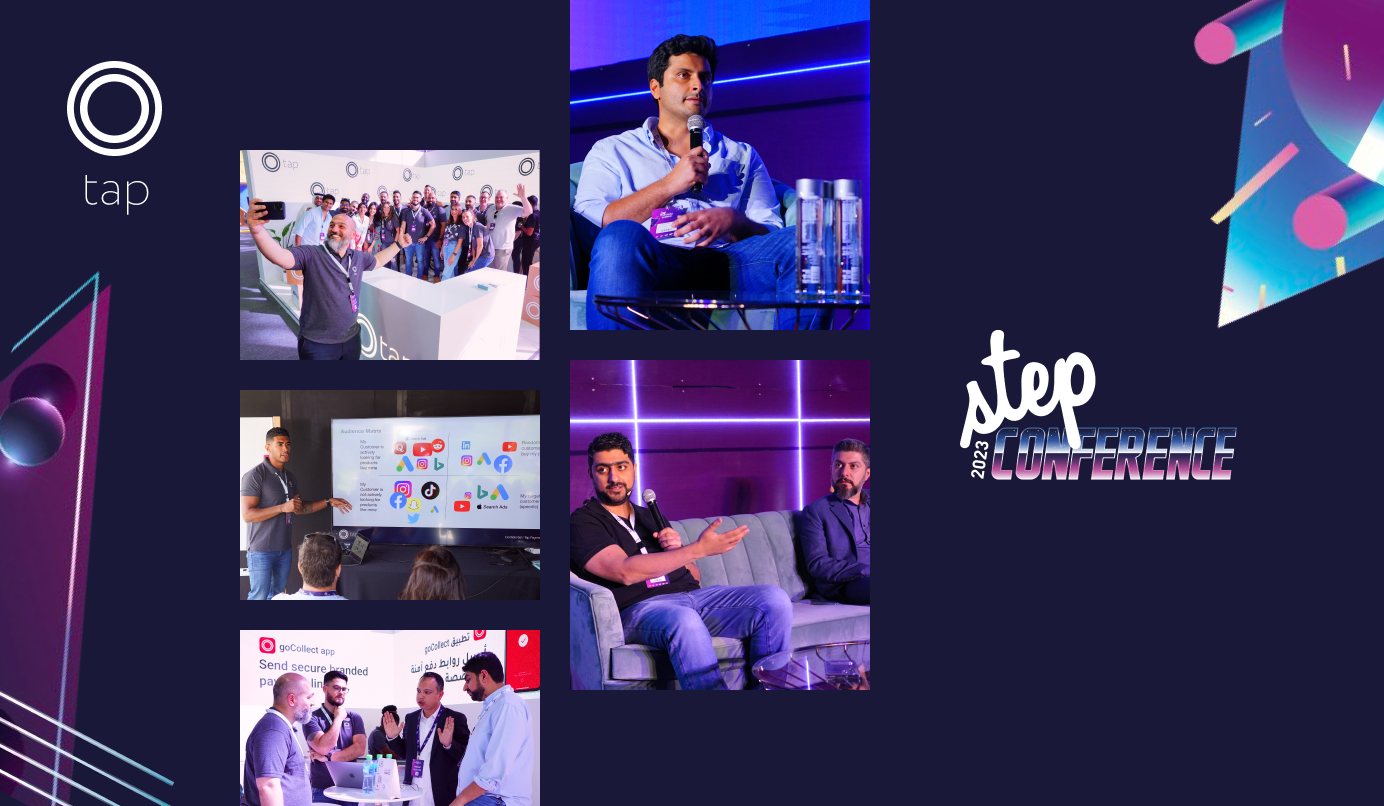 Step Conference 2023: Tap Payments takes center stage in MENA's startup scene
Step Conference 2023, the leading festival for emerging tech in MENA, closed off on the 23rd of February, after two action-packed days at Dubai Internet City with a thriving community of startups, investors, and industry leaders coming together to share ideas, insights, and inspiration!
Over the two days, Step attracted over 8000 attendees and showcased more than 400 innovative startups and over 100 participating companies from various sectors, including fintech, eCommerce, health tech, and more!
With so many startups on display, attendees had the chance to see the latest cutting-edge technologies and ideas from around the region. The conference also provided an excellent opportunity for entrepreneurs, investors, and industry leaders to connect and network, fostering the continued growth of the MENA startup ecosystem.
As the Super partner, Tap Payments was thrilled to be so heavily involved in this incredible event. It was a fantastic platform for us to demonstrate our engagement with our community, empower future startup founders, and push the future of MENA fintech beyond the region!
If you couldn't make it to the event, read on to see our favorite highlights from the event.
Fintech Village at Step Conference: A Platform for the Next Generation of Fintech Leaders
At Step, we had the privilege of being the Fintech Village partner and hosting 20 early-stage fintech and tech startups. This was one of the highlights of the event for us, as we were thrilled to showcase the innovation and potential that these companies possess!
From payroll to tax management and beyond, there were all types of tech companies present, each with a unique offering that showcased the exciting future of finance. We couldn't be happier to have played a part in bringing these innovative companies together and providing a platform for them to shine.
Click to check out the innovative tech companies at Fintech Village
eFunder: a leading digital financing platform that provides SMEs with instant cash and consistent cash flow against their receivables for businesses to unlock their full potential.
Genify: APIs that allow banks and fintech to enable personal finance management within their platforms for data enrichment, spending analytics, spending event-based notifications, product recommendations, and alternative credit decisions.
Kagami trading: A platform that allows real-time portfolio monitoring of the most talented traders with the capability to replicate trades.
Nowmoney: the Gulf's first digital payroll and banking service for the unbanked and underbanked population!
Tipz international FZC: easy QR based solutions that do not require integration or registration from the end-user, thus making the entire tipping, ordering, and review process quick and easy.
Qlub: Contactless payment products for restaurants
Sterve: AI-powered smart platform for micro-businesses to easily go online.
Ahad Network: A SaaS solution to make bookkeeping and tax services accessible and affordable without compromising the accuracy, compliance, or security of users' data
Amwal tech: An identity-powered authentication & payment infrastructure
Finanshels: Tailor-made financial services for businesses, whether it's for book-keeping or tax.
TWIG: A smart personal finance app that allows you to take control of your finances and watch your savings grow
Caena.io: A dealflow automation software for investors and startups eliminating inefficiencies in venture financing.
Spades: Simplifying dine-in payments for F&B
Humd: GCC's First Printing Marketplace catering to start-ups, and small & medium businesses to design & print sustainable products like merchandise, marketing collaterals, packaging products, corporate gifts & many more
Alwafa group: IT services and consulting
Bynow: Buy Now, Pay Later for businesses to grow their business with no limitations
Tigerpay: an e-wallet that supports multiple fiat currencies and cryptocurrencies in one digital platform
MyKaraj: One app for access to multiple garages in the UAE based on specific needs, car model, and location
Grams App: an app for healthy subscription meals for those on the move.
Shayv: Salon services on-the-go
Tap Payments at #Step2023
Ahmed Sameh's workshop on "Decoding Digital Advertising for Startups"
Step was ablaze with energy as Ahmed Sameh, Tap's digital advertising mastermind, took center stage to unravel the mysteries of digital marketing. The room was filled with eager entrepreneurs, all keen to unlock the secrets of digital marketing success.
Ahmed's workshop was packed with valuable insights and practical tips, providing a roadmap for startups to navigate the ever-changing landscape of digital advertising. From the fundamental principles of digital advertising to the nuances of audience targeting, Ahmed left no stone unturned.
Attendees were treated to an in-depth exploration of the different digital funnels and objectives, with Ahmed sharing his expert knowledge on the different ways to scale digital campaigns by effectively splitting budgets.
Click to view some Do's and Dont's of Digital Marketing that Ahmed highlighted at the workshop:
Optimize your website for mobile
Make use of remarketing and utilizing the data you have
Try to avoid overlaps as much as possible
Build a testing plan so that you don't test everything in one go
Give time for your campaigns to record data before you start making changes
Make sure you test more than one ad per campaign
Never neglect the frequency
All in all, It was a highly insightful workshop that left the audience with a game plan to up their digital advertising game!
Ahmed Alaradi @ "Embracing the Fintech Revolution through Innovative Platforms"
The energy was electric on Day 1 of Step as Tap's EVP of Business, Ahmed Alaradi, took the stage alongside experts from partners within the Tap ecosystem: Ali Shabdar, Regional Director MEA, Zoho, and Amel Mabrouk, UAE Country Manager, Foodics.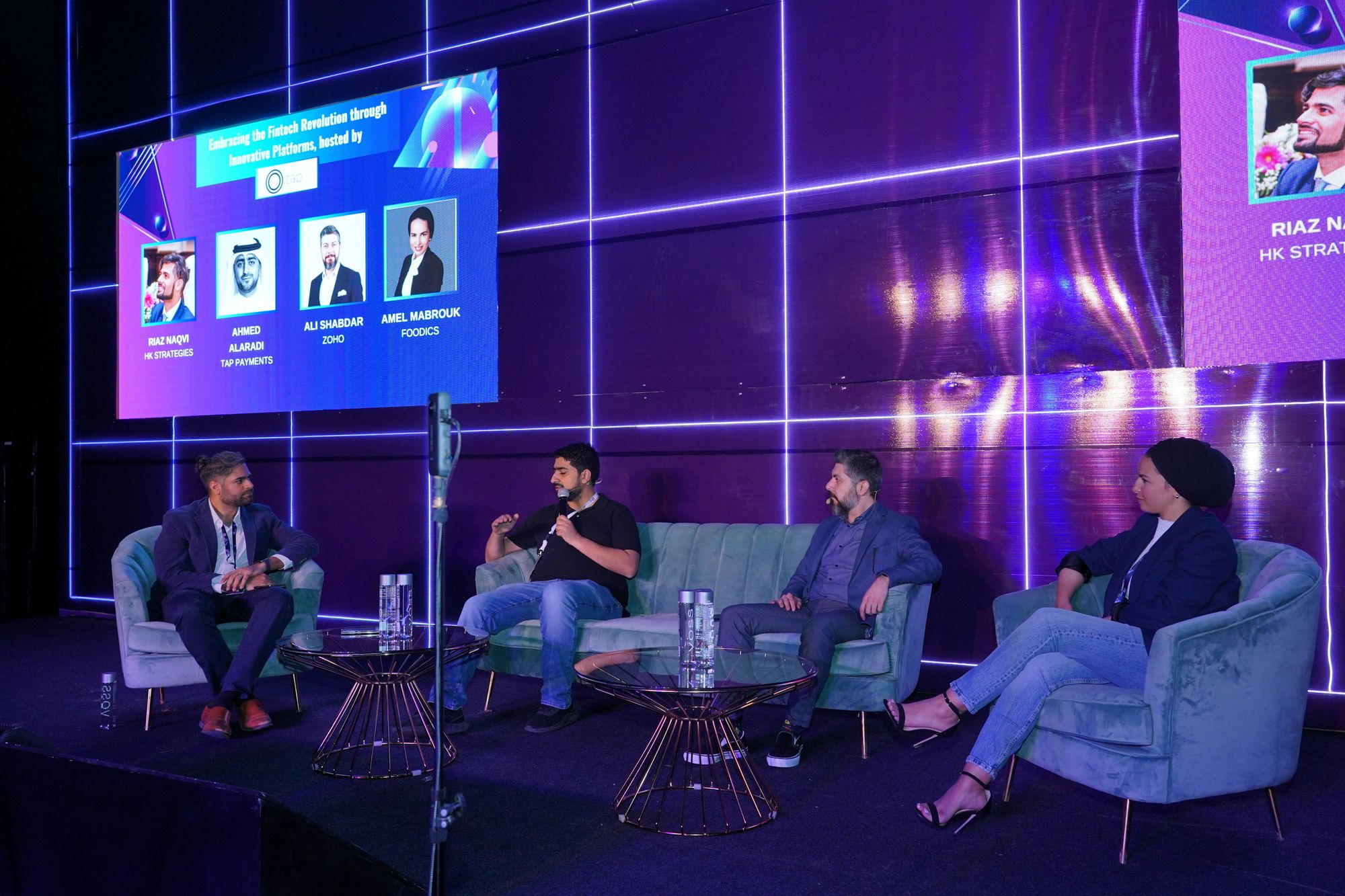 Click to read some key takeaways from Aradi's session:
eCommerce platforms came from a need for easier and cheaper ways for SMEs to go online, but the process is anything but easy when businesses also have the additional task of accepting online payments. This is where Tap comes in. Collaborating with partners and eCommerce platforms, we designed a seamless solution that enables SMEs to go digital without getting bogged down in the intricacies of the heavily regulated online payment industry while staying compliant across all the countries in which they operate
Payment options are no longer a convenience, they are a necessity. In today's fast-paced digital world, businesses cannot afford to lose customers due to limited payment options. We empower businesses by helping them understand what payment methods their customers prefer in every country they operate in, so they can offer a seamless payment experience and drive customer loyalty.
Success comes from not only looking at the needs of the businesses that work with us but by putting the needs of their customers first. By prioritizing the end customer, we help businesses anticipate their customer's needs and create payment experiences that not only meet but exceed their expectations.
Ahmad AlWazzan @ "Fintech Solutions Changing the E-Commerce Play"
Day 2 at Step was a fintech frenzy as Ahmad AlWazzan, the MD of Tap Payments UAE, brought his A-game to a panel packed with fintech pioneers. Joined by Khalil Alami, CEO at Telr, Ahmed Coucha, Co-founder and CEO at FlapKap, and Hassan Mahbub, Director of Fintech at Talabat, Ahmad dove deep into the future of fintech and how it's shaping the eCommerce landscape.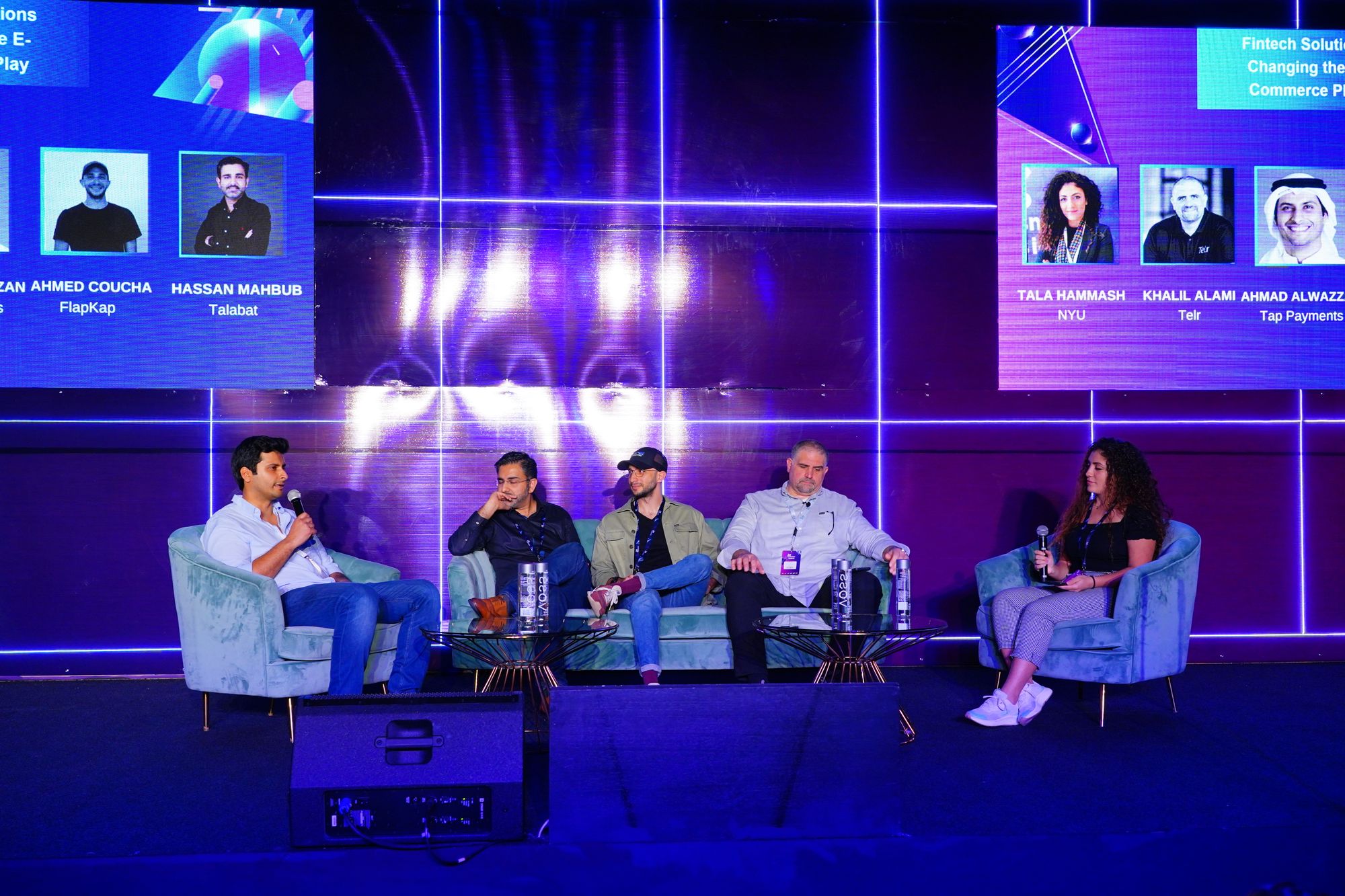 Key takeaways from Wazzan's session:
Managing the 14+ different locally adopted payment methods that exist across the MENA region today can be daunting for businesses. With the need to juggle multiple integrations and partners just to enable local payment methods, it can quickly become overwhelming. At Tap Payments, we've worked hard to streamline this process, providing businesses with all the payment products they need through a single integration. This means less hassle, less time wasted, and more time for companies to focus on what really matters
AI-powered fraud detection is the future of real-time security in online transactions. With the ability to quickly analyze patterns of behavior and identify anomalies, AI offers unparalleled protection against fraud.
The payments industry is evolving rapidly, focusing on regulatory frameworks, integrations between fintech and traditional solutions, and mobile payments. To meet the needs of businesses and consumers alike, the industry must prioritize user experience, evolve with new technologies and regulations, and address the predicted increase in cross-border transactions.
Azra Ahmed at the Mentor's Corner
But that's not all - Tap's very own Head of Compliance, Azra Ahmed, was also in the mix, offering up her expertise in the mentor's corner at Step to early-stage startups.
As a compliance pro, Azra knows the ins and outs of navigating regulations and compliance requirements. She shared her knowledge with startups, helping them stay on track and avoid costly mistakes as they grow their businesses. It was a fantastic opportunity for Tap to give back to the ecosystem and help nurture the next generation of innovative startups.
We're excited to see what the future holds for these trailblazers as they continue on their journey toward success!
---
After an exciting event that was #Step2023, we at Tap Payments are proud to have been the Super Partners. The event was packed with riveting panel discussions, insightful workshops, and non-stop action from start to finish.
But Step was more than just an event, it played a vital role in fostering the startup and tech ecosystem across the MENA region. By bringing together entrepreneurs, investors, and industry experts from around the world, events like Step create opportunities for collaboration, creativity, and innovation that will help shape the future of the industry for years to come.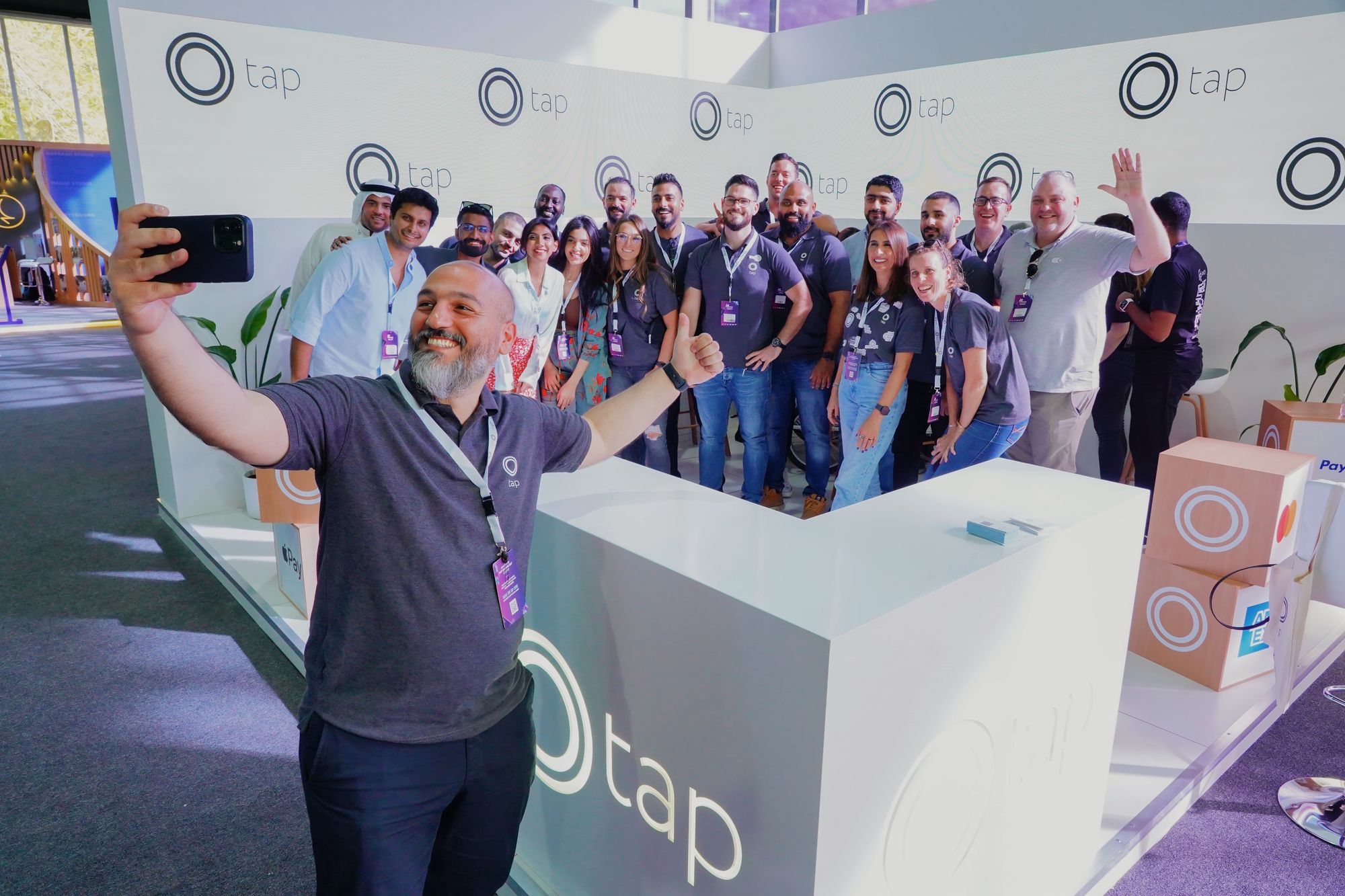 Looking back on the event, we are honored to have been part of an experience that not only provided a space for learning and growth but also a platform for networking, making connections, and driving change in the industry.
---