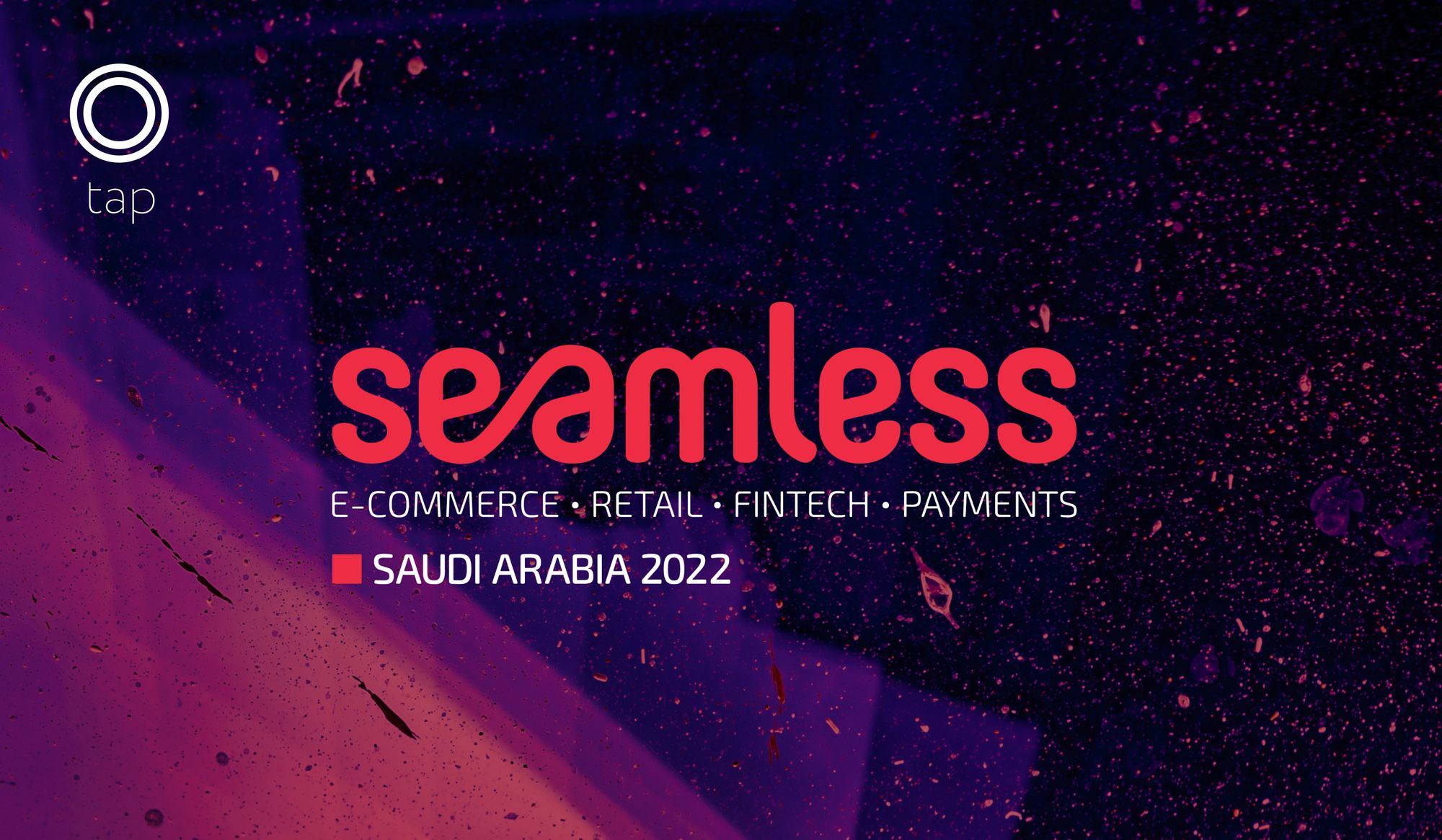 Meet Tap Payments at Seamless Saudi Arabia
Say hey to our team of payment experts on the 2nd and 3rd of November at Seamless- the biggest eCommerce & Fintech conference in the region. Now in Riyadh!
Over the course of 23 years, Seamless has brought together pioneers and experts to discuss the latest in online payments, fintech, retail, and e-commerce. On November 2022, Seamless is going to Saudi Arabia for the first time at the Riyadh International Exhibition and Convention Center and we are excited to be partnering with them!
Developing the fintech and payments ecosystem has always been our top priority, and participating in events like Seamless is our way of committing to the development of the industry.
The 2-day conference is designed to ignite new ideas and inspire audiences to think differently about payments and eCommerce. With 150+ brands and 200+ innovators, business leaders, and entrepreneurs expected, Seamless will provide attendees free access to emerging trends, new initiatives, and the latest technologies.
eCommerce University - Learn To Grow Your Online Business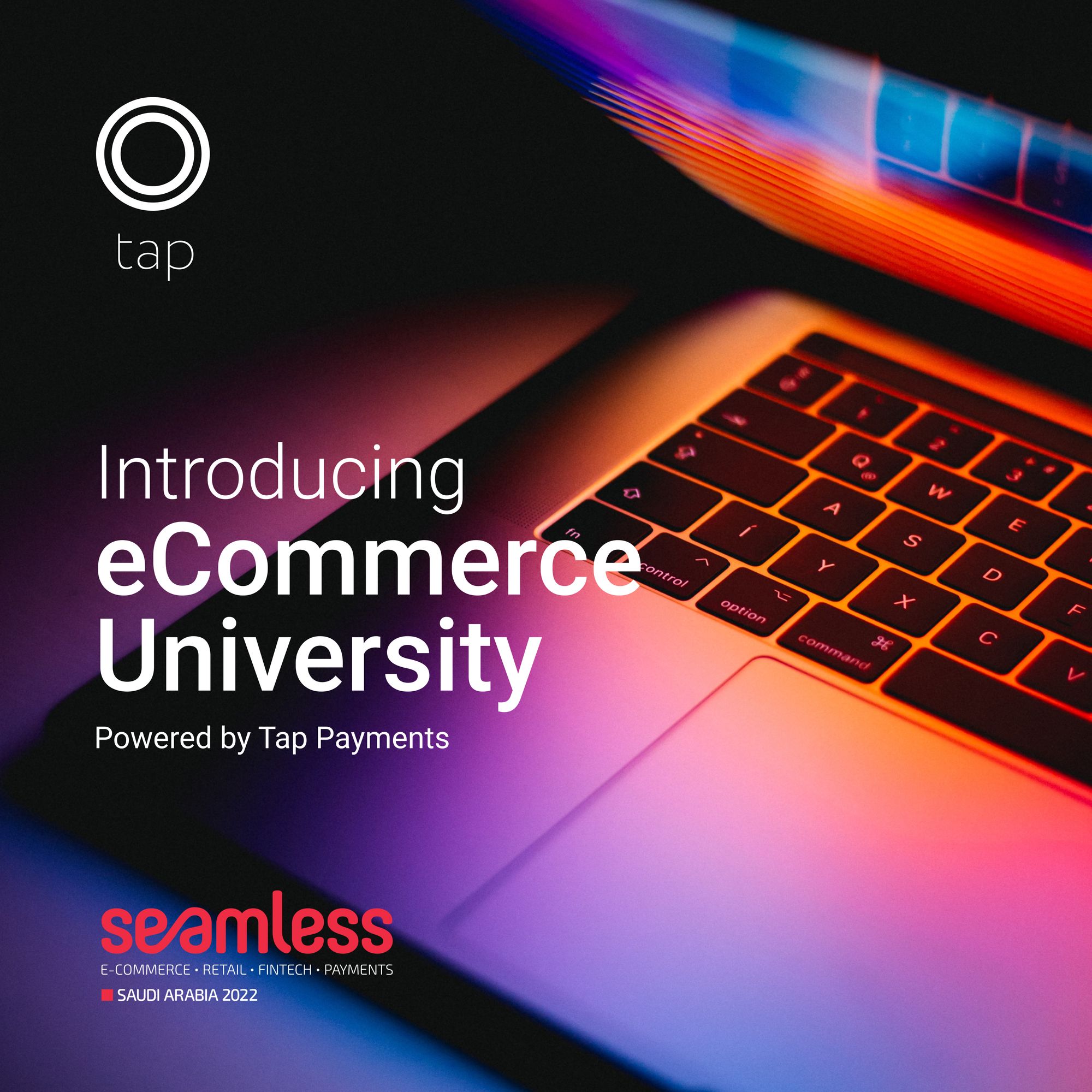 eCommerce University is a series of workshops aimed at helping you build and scale a successful online business. We are excited to announce that at #SeamlessKSA, the eCommerce University will be powered by Tap Payments!
Developing the entrepreneurial ecosystem in Saudi Arabia and across MENA has always been a cause close to our hearts so we are very excited about this opportunity. We have a lot of interesting sessions planned over the 2 days such as:
A session by Mazen AlDarrab, the Founder and CGO at Zid titled
"Ensure checking these boxes before canceling the cash on delivery (COD) feature in your store"
Day 1, 2nd of Nov @ 18:00
A fireside chat with Abdulaziz Saja, the GM of KSA at Tabby to discuss
"The accelerated growth of BNPL in Saudi Arabia and its impact on payments & eCommerce"
Day 2, 3rd of Nov @ 14:00
Keep your eyes out for the full eCommerce University agenda.
Online Payment Experts from Tap at #SeamlessKSA
Over the 2 days, there are going to be a lot of exciting panel discussions and sessions on the state of the fintech, payments, retail, and eCommerce industries across the region today as well as the trends and changes to pay attention to. We've also got some of our very own Tapsters speaking in some discussions we are very excited about:
Sultan AlOnazi, MD, Saudi Arabia at Tap Payments
Day 1, November 2 @ 16:00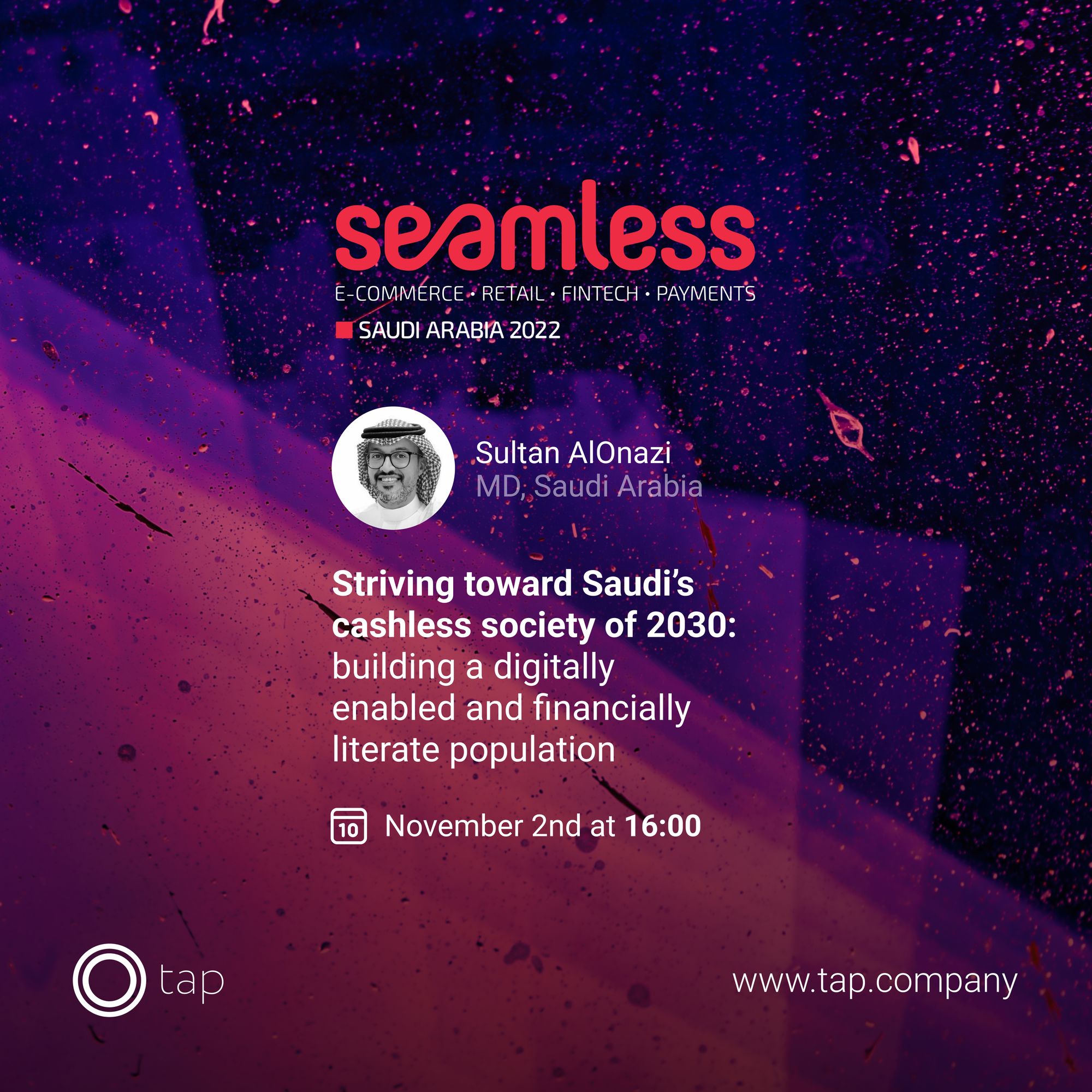 Tap is built on the motto of "Simplifying payments". We do this by building an ecosystem of products that allows any business to easily go cashless no matter their size or business model. With the focus in Saudi on shifting to a cashless society as part of Vision 2030, this is also a personal aim for Sultan AlOnazi, the MD of Saudi Arabia, which is why this is a panel we are all very excited about. With more than 24 years of experience in financial technology, economics, marketing, and sales within Saudi and across the region, we are excited to hear his views at this panel and we hope you are too!
Ahmed AlAradi, Group EVP, Business & Managing Director - Bahrain at Tap Payments
Day 2, November 3 @ 14:50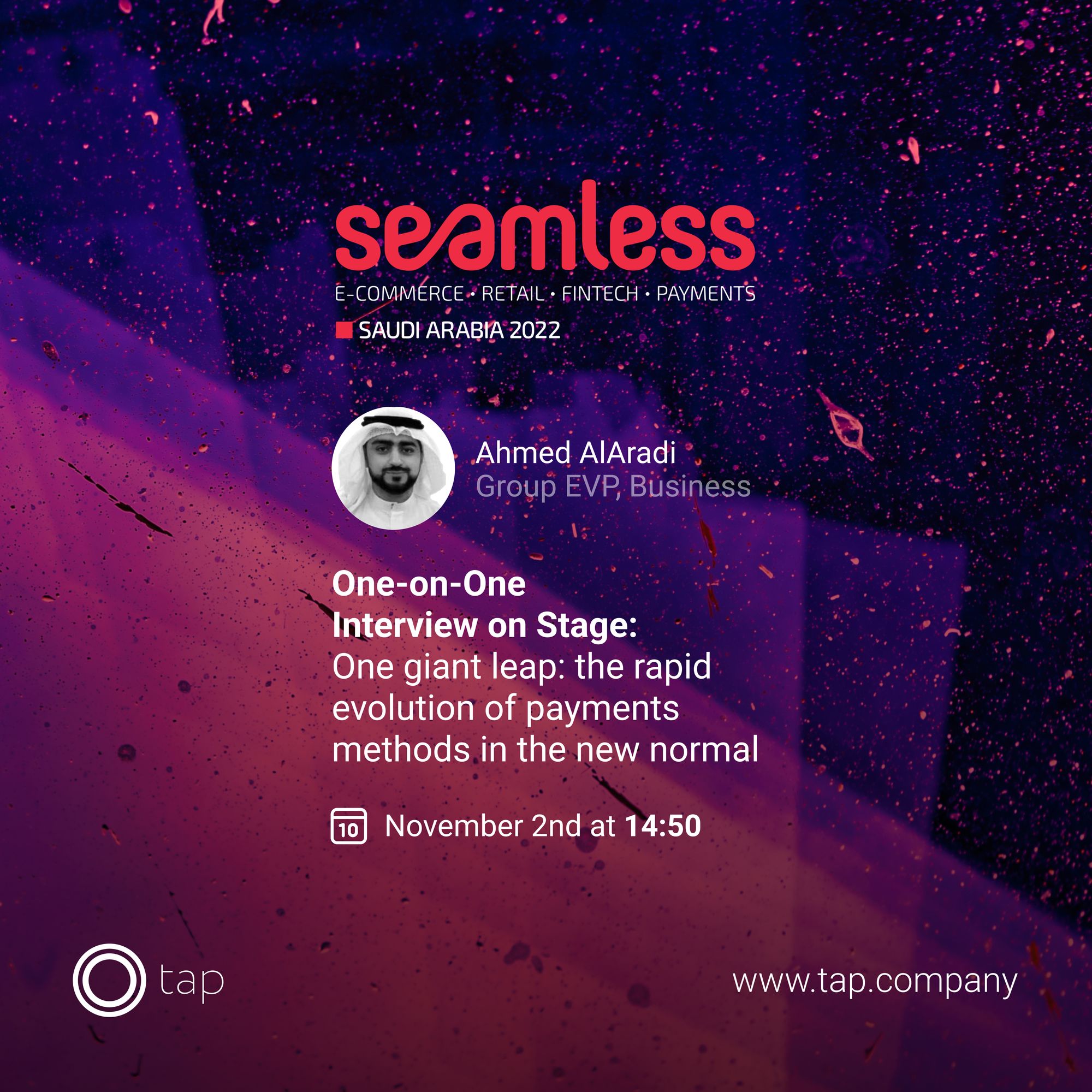 For a truly frictionless payment experience, you need to offer the payment methods that your customers prefer. With a disconnected payment landscape across MENA, every country has its own popular and trusted payment methods and there are new ones coming up every day as well! Being informed on these trends and offering your customers the option to pay through them is how you can enable a truly frictionless experience. Join the session by our Group EVP, Ahmed Al-Aradi, as he walks you through the evolution of payment methods across the region in what promises to be an exciting fireside chat with Santhosh Jayaram, COO of Marshal FinTech Partners​​
All you need to know about Seamless Saudi Arabia
#SeamlessKSA is poised to be an action-packed 2 days and we are excited to see you all there. Register for the event and catch up with our payment experts over a cup of freshly brewed coffee by our very own barista at the Tap booth!
Date: 2nd and 3rd November 2022
Venue: Riyadh International Convention and Exhibition Center
Booth: M20
See you all there! 😍
---