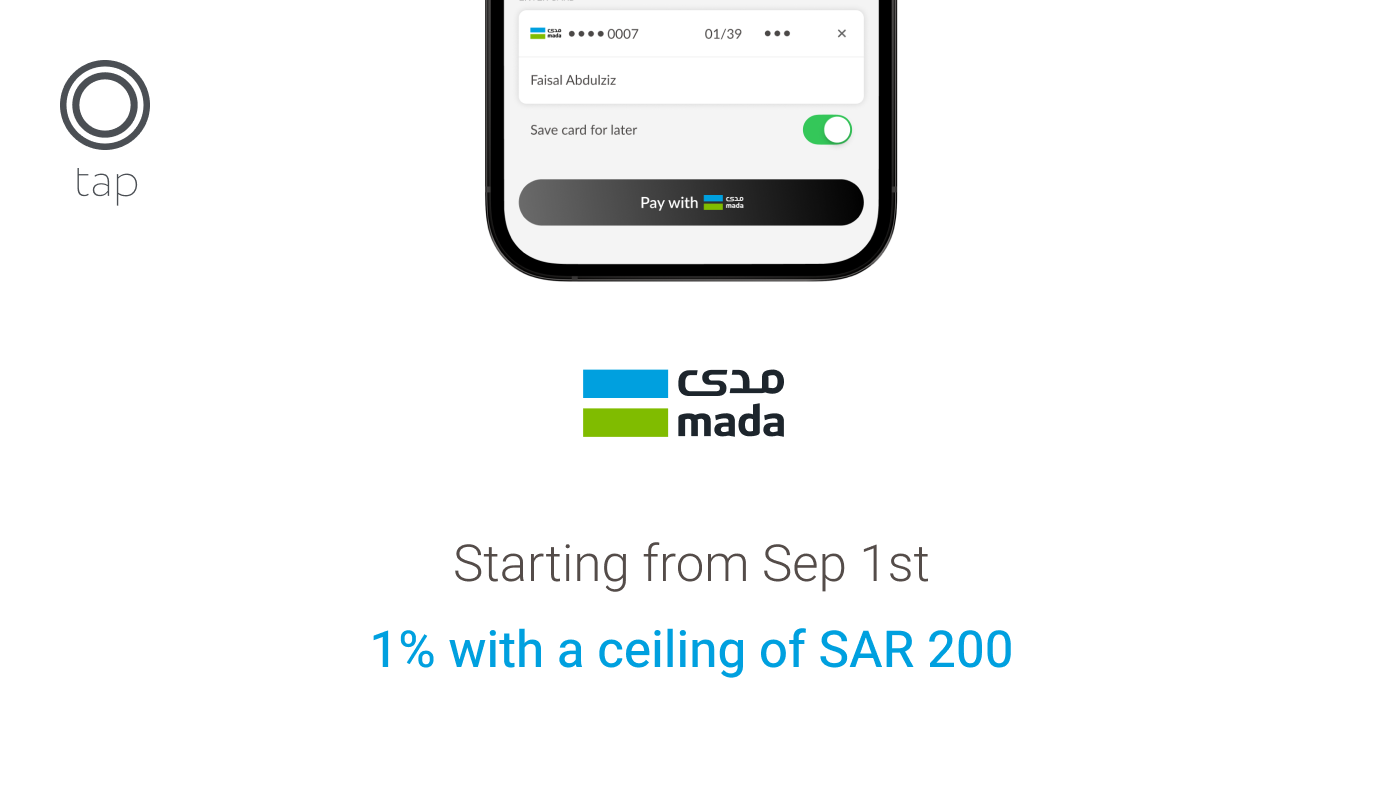 Maximize profits with mada: your guide to lower transaction fees for online payments in Saudi Arabia
We've got big news: mada, Saudi's leading local payment method, has become even more affordable for businesses selling across Saudi!
Starting September 1st, 2023, mada transaction fees are taking a turn to better serve your business needs.
💡
The new fees for all mada transactions are:

1% with a cap of SAR 200.
What does this translate to?
The revamped mada fee structure means all your transactions, be they via Apple Pay or not, will only set you back by 1% of the transaction's value.
And here's the game-changer: No matter if you sell a product worth SAR 5,000, SAR 20,000, or even more, you'll never shell out more than SAR 200 in fees. It's like increasing your revenue with every large sale!
Such a structure paves the way for increased profits, particularly from premium items, while offering predictable costs. This is undoubtedly beneficial for businesses seeking growth in the Saudi marketplace.
Why this is cause for celebration
The advantage of mada: more savings, bigger profits!
Every penny matters, especially for startups and SMEs. With mada's adjusted transaction fee system, you're set to see notable savings on payment costs. This means you can invest more into vital areas—be it innovation, expansion, or those dreams that once seemed just out of reach.
Combining mada fees & Apple Pay: a game-changer for businesses
Thanks to mada's revised fees, transactions via Apple Pay with mada cards are equally economical. Now, you can offer the seamless and swift checkout that Apple Pay guarantees without any additional charges for Apple Pay transactions with mada cards. Smooth transactions lead to contented customers, and satisfied customers often result in increased conversions and repeat business. Enhance your customers' shopping experience while also ensuring you save on costs.
mada: the key to flourishing in Saudi's eCommerce sector
Stepping into the realm of eCommerce, especially in Saudi Arabia, calls for more than just transactions—it's about delivering unparalleled payment experiences. mada, steadfast in its commitment to innovation, guarantees just that. By adopting mada, you offer your customers swift checkouts, impeccable security, and unmatched peace of mind. It's a testament to your commitment to customer-centricity, convenience, and trust.
In a landscape where every interaction counts, partnering with mada can amplify customer loyalty, foster satisfaction, and position your business at the pinnacle of the digital commerce evolution in Saudi Arabia.
Saudi's vision for a cashless tomorrow
The recent shift in mada's transaction fees isn't just a change—it's a declaration of Saudi Arabia's ambitious stride towards a cashless society. This move is in line with the nation's vision of weaving modernization into the fabric of everyday transactions.
At Tap Payments, we're more than just spectators; we're proud collaborators in this transformative journey. Every step towards a digital-first payment landscape resonates with our mission and values. As we continue to support and champion this cashless evolution, we're brimming with excitement for the boundless growth and potential it promises for Saudi Arabia's future.
---
We're always here to assist you
Have questions or require guidance? Our dedicated support team is available round the clock. Just reach out via the live chat on our website or send us an email at support@tap.company. We're always here to help!
---