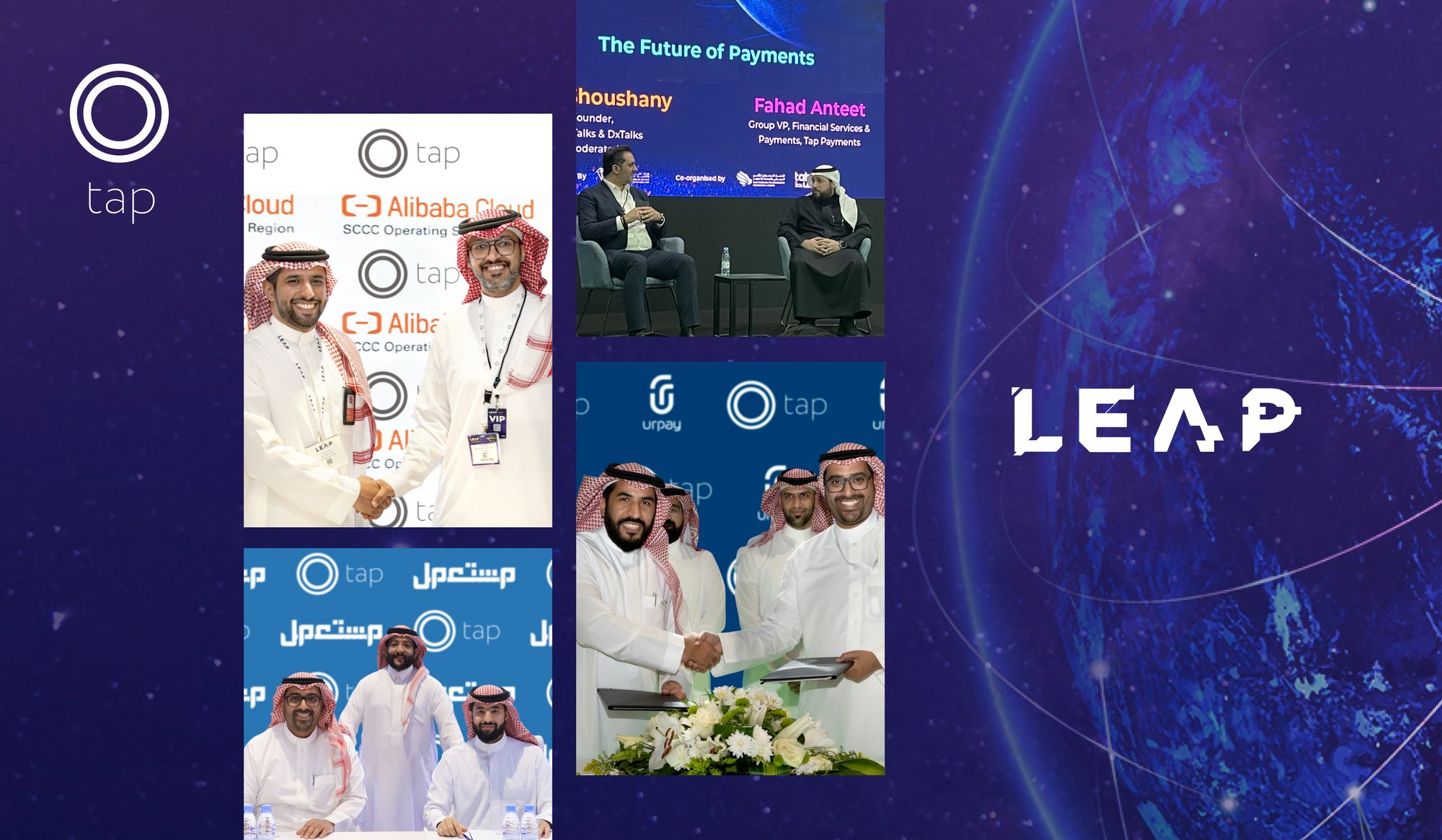 The Future of Saudi Arabia's Tech and Payment Industry: Insights from #LEAP23
The global tech community recently descended upon Saudi Arabia for LEAP 2023, a landmark event that showcased the kingdom's innovative spirit and forward-thinking approach to technology.
With a theme of "Into the New World," #LEAP2023 drew over 100,000 of the brightest minds in tech for a celebration of all things innovative and disruptive.
As a proud payments partner at LEAP, we at Tap Payments had the chance to immerse ourselves in the latest and greatest in tech, from cutting-edge robotics to AI and beyond. From sipping on a latte made by a robot barista to getting up close and personal with Sarah, the Saudi-speaking robot, we were truly blown away by the potential of technology and the limitless possibilities it presents.
Led by Saudi Arabia, the MENA region is expected to see 45 unicorns worth over $100 billion by 2030, and LEAP demonstrated the monumental growth in the tech industry that is making this vision a reality.
The potential of Saudi's tech industry is undeniable and LEAP showcased the strides that have been made, cementing Saudi's position as a key player in the region's tech landscape.
If you missed out on this incredible event, don't worry. We've got you covered with a comprehensive recap of all the highlights of LEAP 2023!
#LEAP23 Agenda: What happened, when, and where
LEAP 2023 was the premier tech event of the year in Saudi Arabia, with a packed schedule of innovative and thought-provoking activities that kept attendees on the edge of their seats. From February 6th to 9th, 2023, the event was held in Saudi Arabia and was a showcase of the latest advancements in technology.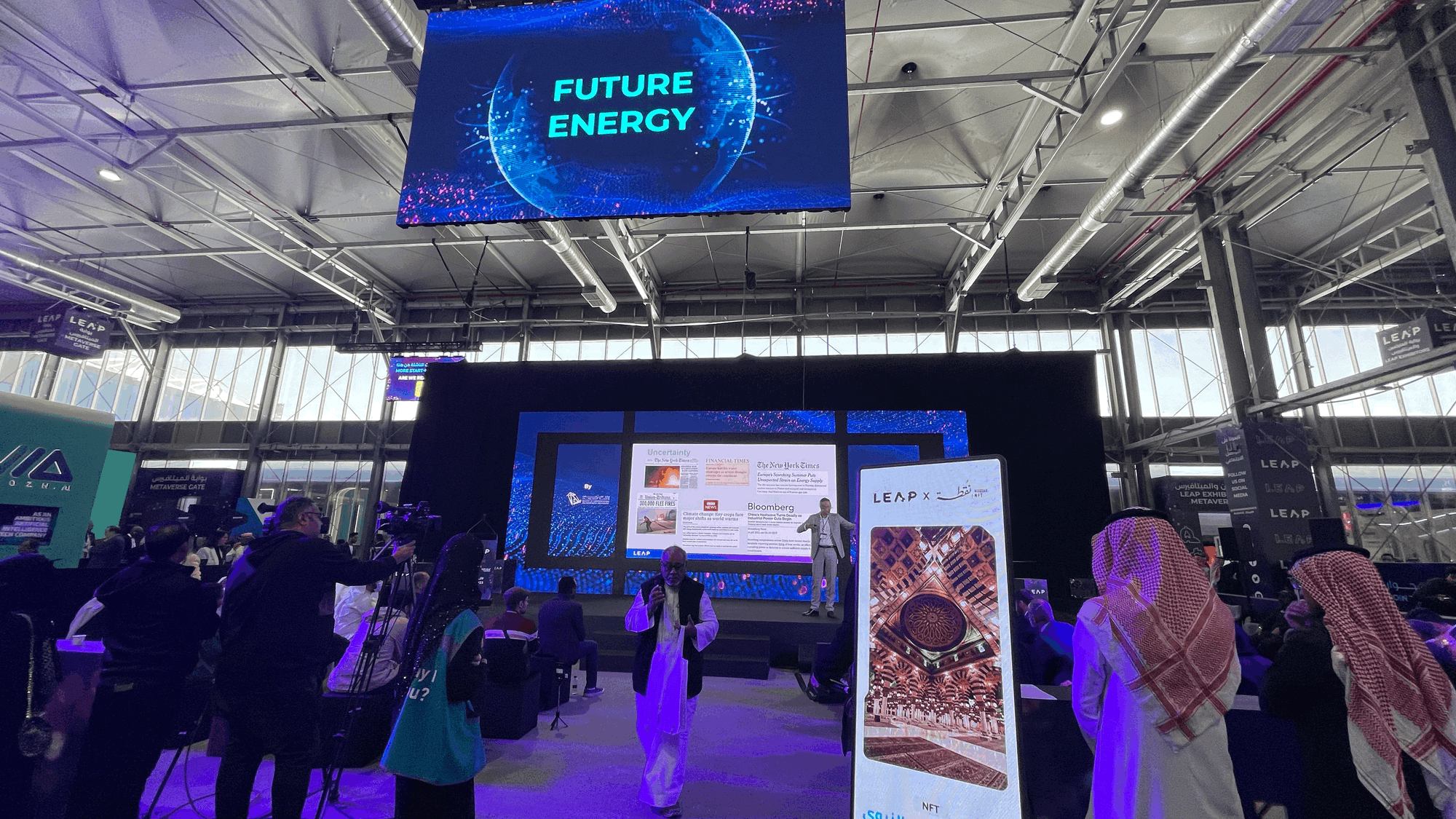 As attendees made their way into the event, they were greeted by a waving robot, setting the tone for the futuristic and cutting-edge innovations that awaited them. The event was filled with a diverse range of exhibitors, showcasing everything from social media apps and shopping platforms to drones and payment solutions
The three stages at LEAP 2023, the Main Stage, the Investor Stage, and the Orbital Talk Stage, provided a platform for experts in various fields to share their knowledge and experiences with the audience.
Conversations centered around hot topics like EduTech, creative economy, retail, smart cities, fintech, health tech, and future energy, making LEAP 2023 the place to be for anyone looking to stay on the cutting edge of tech.
At Tap, we were right in the thick of it all, taking part in exciting conversations and sharing our own insights and experiences with the audience.
Future of Payments with Fahad Anteet, Group VP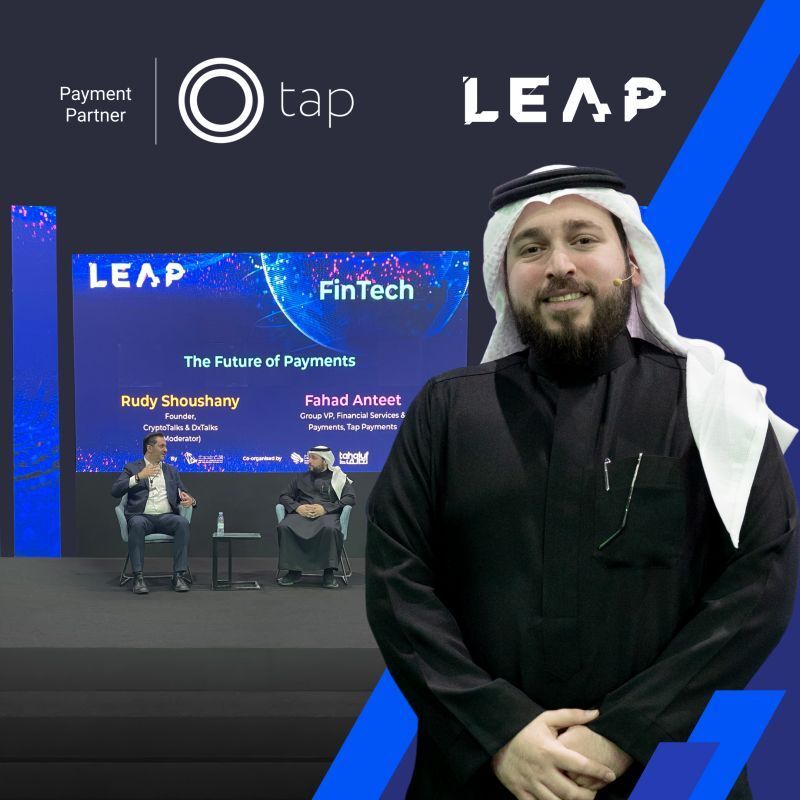 Fahad Anteet, our Group VP of Financial Services & Payments, spoke on the Fintech Orbital Stage, where he joined Rudy Shoushany in an exciting fireside chat titled "The Future of Payments".
This fireside chat explored various payment topics including where it's headed in the coming years, with Fahad emphasizing Tap's role in paving the way for the digital world.
💡
Key points from Fahad's chat on the Future of Payments:

1. "At Tap Payments, we're not just talking about enabling traditional payments. Our goal is to use it to enable a seamless, digital identity with our payments infrastructure that propels residents into the future of technology. With the world moving towards the Internet of Things, it's our mission to make the Smart City experience accessible and effortless."

2. "AI is revolutionizing the payment sector, and at Tap, we're embracing its power to secure and empower our clients with sharper decision-making tools and transactions that are safer and more secure."

3."With a decade of experience in the payment industry, we have not only kept pace with the rapid growth but have also mastered the art of navigating complex regulations with ease. Tap's unwavering commitment to excellence sets us apart from other fintechs, as we have confidently conquered the challenges that often hinder seamless operation in the region."
New Partnerships
We had the opportunity to further our aim to enable the payment ecosystem in Saudi by partnering with leading players both regionally and globally.
Next-Level Collaboration: Tap Payments and Alibaba Cloud to Enhance Digital Payment Infrastructure in Saudi Arabia
On day 3 of the event, February 8th, Tap Payments signed a memorandum of understanding (MOU) with Alibaba Cloud, a subsidiary of Alibaba Group.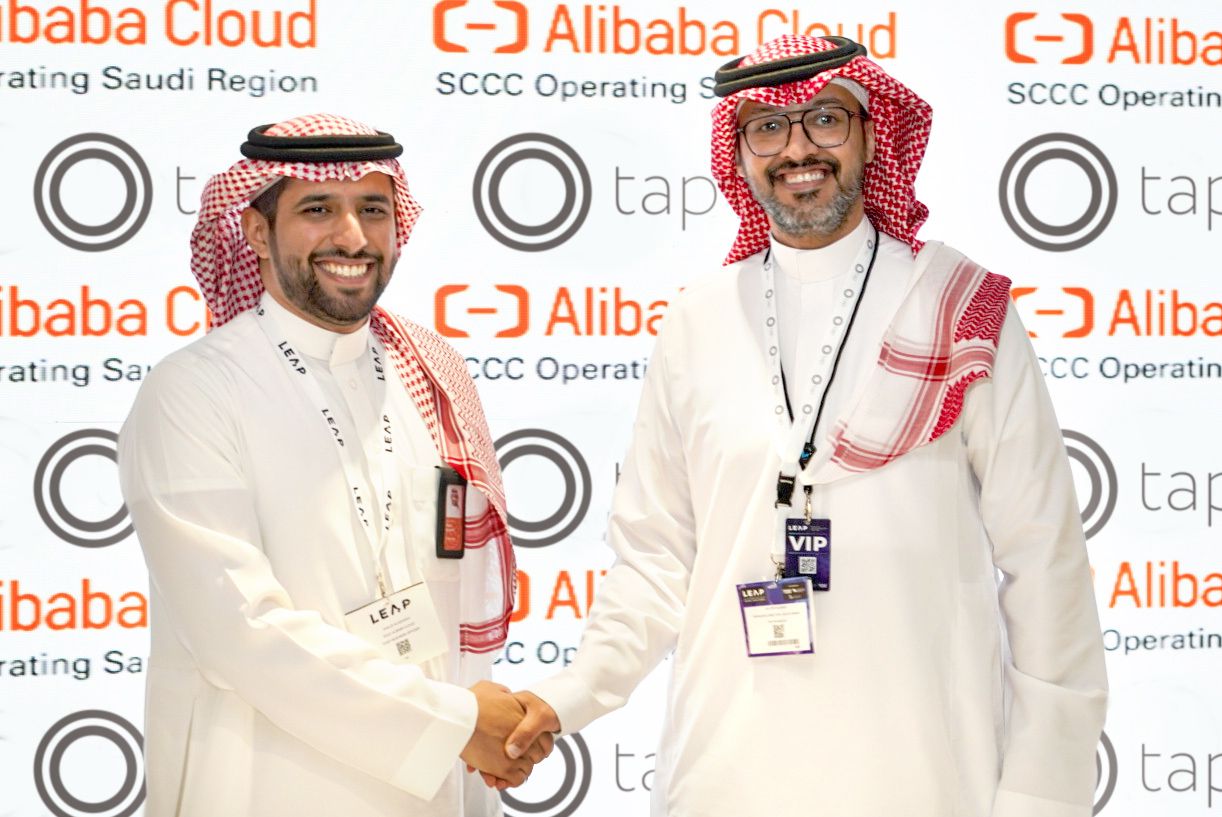 This MOU represents a major milestone in our growth and will allow us to build quicker, easier, and more secure products through Alibaba Cloud's extensive network of online businesses and e-commerce ecosystem. The signing of the MOU was a highly anticipated event, as it marked a key step in the development of the partnership between industry-leading Middle Eastern and Asian fintech brands.
Sultan AlOnazi, Managing Director of Tap Payments Saudi Arabia, and Khalid Al Sheikh, CBO at Alibaba Cloud, attended the signing ceremony at Alibaba Cloud's stand at LEAP. The signing of the MOU between Tap Payments and Alibaba Cloud promises to bring new and exciting opportunities to the world of payment technology!
Tap Payments and NeoLeap Team Up to Offer urpay to Saudi Consumers
On day 3, we had another partnership go official! We also announced our partnership with Neoleap to bring urpay, the popular digital wallet in Saudi Arabia, as another payment option for our customers on Neoleap's stand.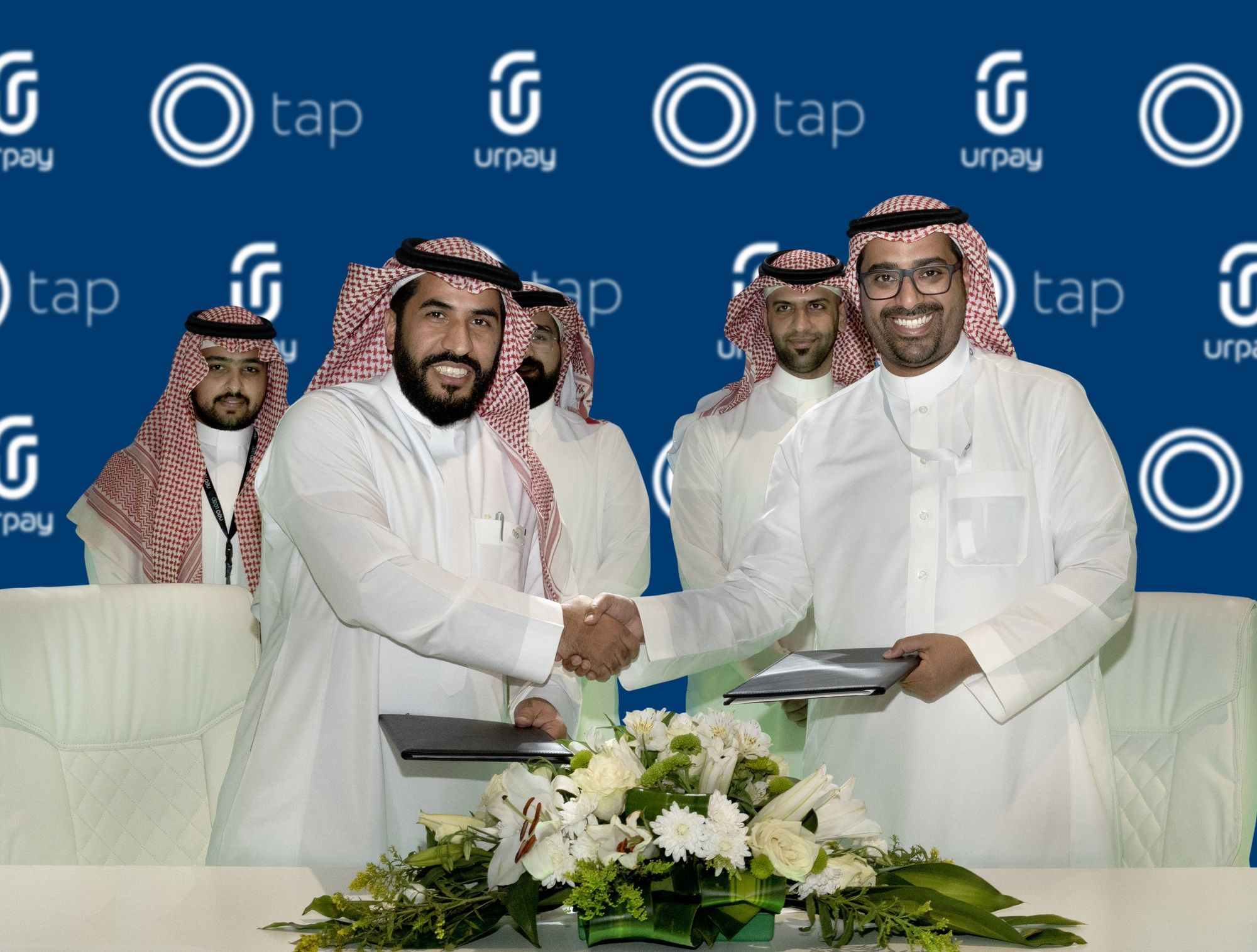 This partnership highlights our unwavering dedication to empowering businesses to thrive in MENA by granting easy access to all the locally popular payment methods necessary for their success.
At Tap Payments, we are passionate about propelling growth and ensuring that our clients have the tools they need to flourish in this dynamic region.
Empowering Sustainable Consumerism: Mstamal Integrates with Tap Payments for a Better Payment Experience
We also signed a new partnership agreement with Mstaml Inc, the app for buying and selling second-hand products. This is a major boost for the app's marketplace sellers, as they will now be able to offer all the payment options that their customers love.
The partnership was officially sealed by Mohammed Alkhowaiter, Director of Enterprise Acceptance at Tap Payments in Saudi Arabia, and Abdulrahman Bin shahbal, CEO of Mstaml App.
With this new development, users of the Mstaml app can look forward to easy, quick, and secure payments, making their buying and selling experiences even more seamless and convenient. It's exciting news for everyone involved and we can't wait to see how this partnership will transform the world of online transactions.

---
#LEAP23 was a fantastic showcase of the latest innovations and technologies, and Tap Payments was proud to be a part of it.
These events are crucial in realizing Saudi Arabia's 2030 vision, particularly within the Financial Sector Development Program. The event was a showcase of the latest advancements in technology, including innovations in payments, fintech, and smart cities. Leaders in various fields gathered to share their knowledge and experiences with the audience, including Tap Payments, who took part in the exciting conversations and shared their own insights and experiences.
Overall, we were thrilled to take part in such an exciting event, and we can't wait to see what the future holds for the world of technology and payments in Saudi Arabia.
See you all in #LEAP24!
---