Tap is proud to be the payment partner of #LEAP23 in Saudi
LEAP brings together 100,000+ disruptive tech professionals and experts for a unique and innovative experience over the 3 days!
Explore exciting new tech-related trends in the global, award-winning technology festival, held in Riyadh!
This year's theme, "Into the New World," takes you on a journey through the internet, space, and beyond. With over 700 leading tech companies in attendance, it's the perfect opportunity to network, learn, and grow.
Whether you're a leader, investor, entrepreneur, or professional, you'll find like-minded individuals to connect with at LEAP. Explore new levels of creativity, fintech disruption and innovation and take your business to the next level. With opportunities to expand and cooperate with other companies, you'll be able to better serve your customers and stay ahead of the competition.
Where innovation and exciting new things go, we follow. LEAP is a highly anticipated tech event that people from all around the world attend, so it's a given that Tap Payments will be there.
We're honored to play a part in this highly anticipated tech event as the payment partner since fostering the tech and startup environment in Saudi Arabia is a priority for us at Tap Payments.
Hear from our payment experts at #LEAP23
Make sure you don't miss out on what promises to be a very exciting fireside chat from Fahad Anteet, Group VP of Financial Services & Payments, as he speaks about "The Future of Payments" on day 3 at the Fintech Orbital Talk stage.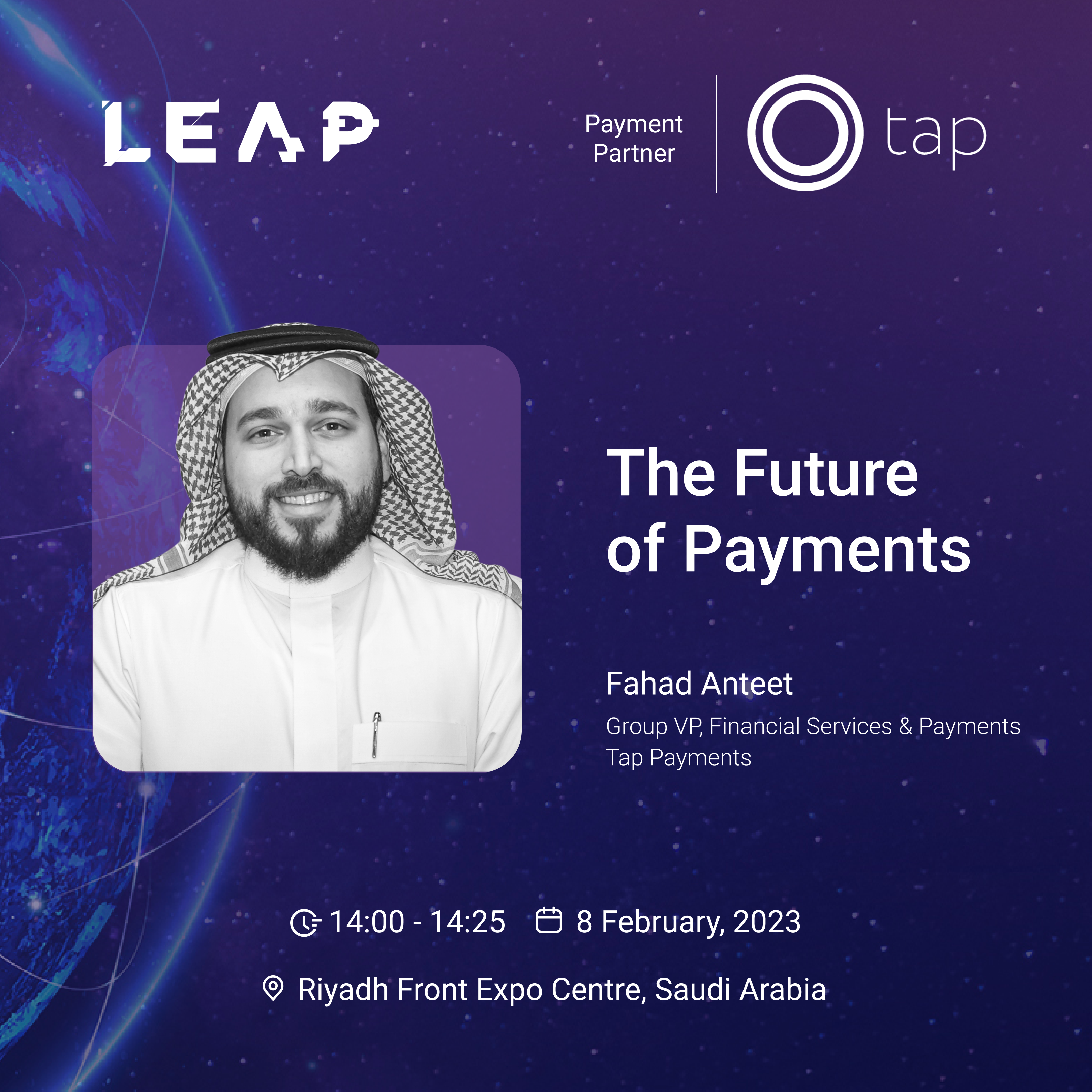 This is definitely a session you don't want to miss out on! Fahad will go through the future of payments, online and offline; the most important trends in the fintech field to keep an eye on; as well as highlighting Tap's role in enabling local businesses to easily go online.
LEAP will be a great opportunity for everyone in the tech world to meet and collaborate with like-minded individuals while learning about what's shaping the tech industry in Saudi Arabia, so make sure you don't miss out!
Save the date!
If you want to come by, here's everything you need to know:
When: Feb from 6-9, 2023
Where: Riyadh Front Exhibition & Convention center, Riyadh
How: Get your free ticket HERE
We can't wait to see you there!
---