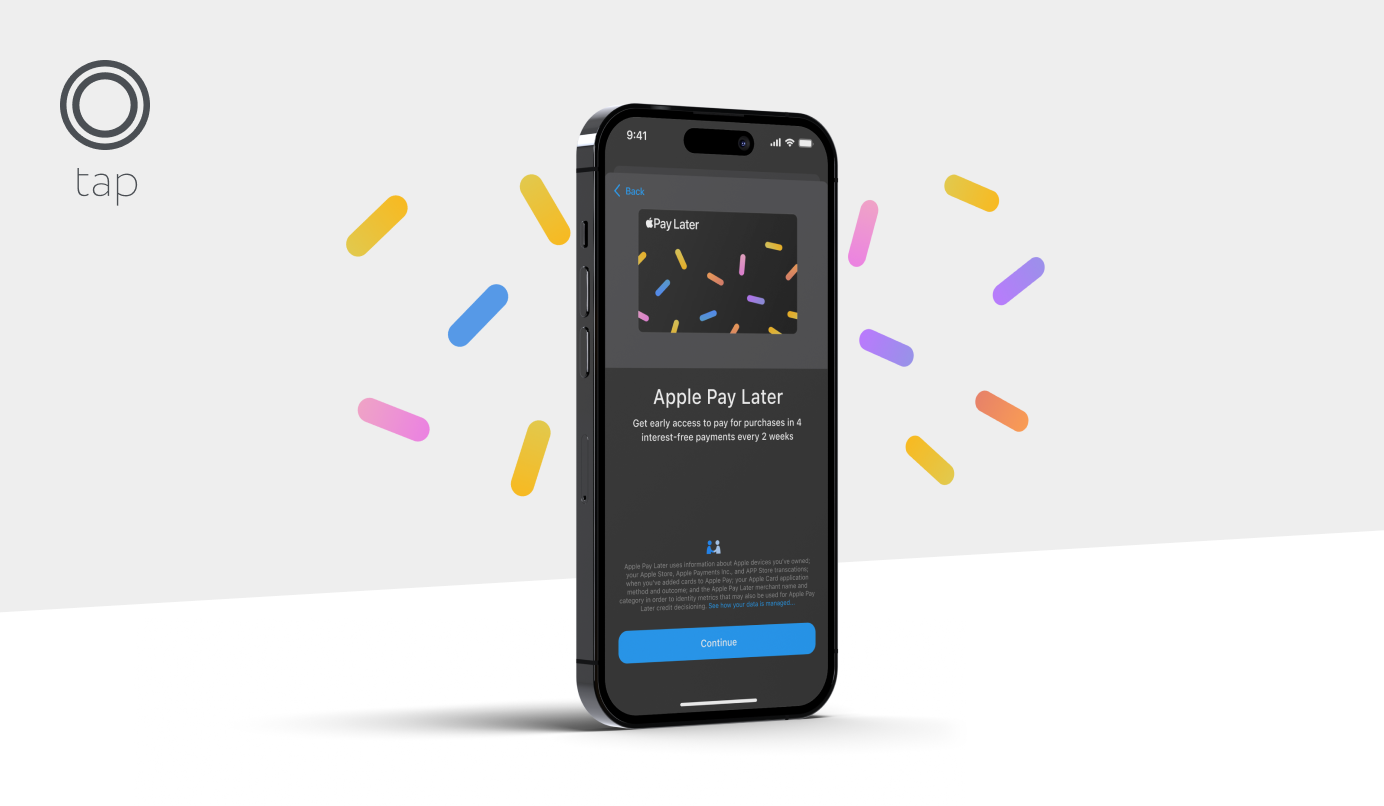 Apple Pay Later: A game-changer for consumers and businesses alike
Apple continues to innovate with its latest offering!
With the launch of Apple Pay Later in the US, the tech giant is set to revolutionize the Buy Now Pay Later (BNPL) industry, creating a win-win situation for both consumers and businesses. In this blog post, we will explore the ins and outs of the Apple Pay Later launch in the US and how it is set to be a game-changer for everyone involved.
What is Apple Pay Later?
Apple Pay Later is an innovative payment option that offers Apple Pay users the flexibility to:
Divide their purchases into four equal installments,
Extend payments over a period of six weeks, and
Avoid any interest or fees.
This unique feature not only promotes financial well-being by enabling consumers to manage their spending and payments more effectively but also aids businesses in driving sales with an enticing payment alternative.
A recent study by PYMNTS.com highlights the growing popularity and potential of Buy Now Pay Later (BNPL) services:
20-30% of consumers indicated a higher likelihood of completing a purchase when offered the option to pay later.
A significant 70% of customers reported increased spending when utilizing a BNPL service.
Interestingly, nearly 60% of consumers are aware of BNPL, regardless of whether they have used it or not.
With Apple Pay Later, Apple aims to enhance the payment experience for both consumers and businesses alike, capitalizing on the growing interest in BNPL services.
How Apple Pay Later Works
Integrated seamlessly into the Apple Wallet, Apple Pay Later simplifies the application, tracking, and management of loans for users. The application process is quick and hassle free, with no impact on credit. Users can borrow amounts ranging from $50 to $1,000, which can be used for online and in-app purchases via iPhone and iPad at merchants that accept Apple Pay.
The Pay Later option appears during the checkout process, making purchases a breeze. All loan payments are displayed in the Wallet, giving users a clear view of their total amount due and upcoming payments. Wallet and email notifications ensure users are reminded of upcoming payments, allowing them to plan accordingly. To avoid over-borrowing, only debit cards linked to the Wallet can be used as the loan repayment method.
Benefits of Apple Pay Later for Businesses
Apple Pay Later provides a new and convenient payment option for businesses enabling them to cater to a broader range of customers seeking flexible payment options. In addition, businesses can enjoy increased brand exposure by being part of the Apple Pay ecosystem.
Benefits of Apple Pay Later for Consumers
Apple Pay Later provides a flexible and convenient payment option for consumers. With no interest or fees, users can easily manage their finances and make informed, responsible borrowing decisions. The integration of Apple Pay Later into the Apple Wallet allows users to effortlessly keep track of their loans and manage their payments.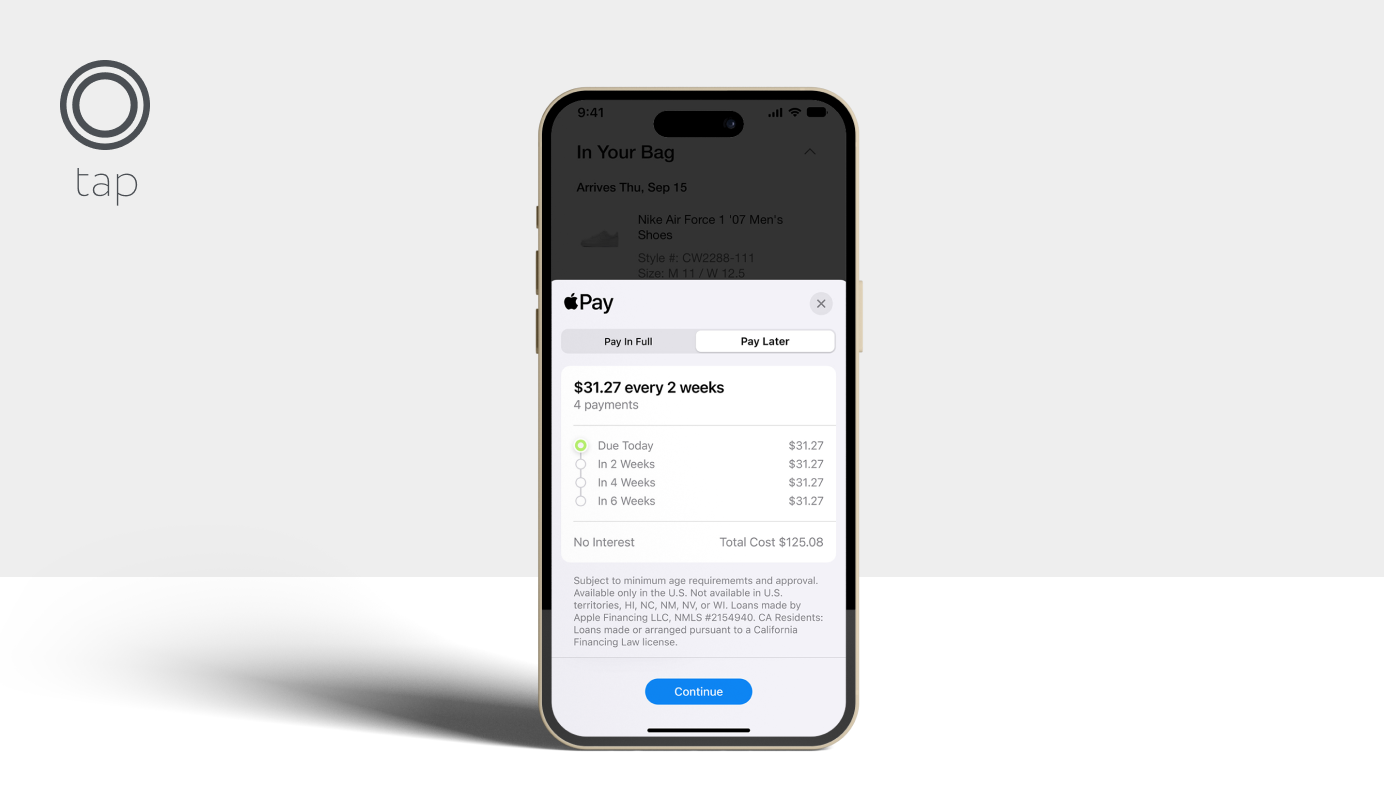 Privacy and Security: A Top Priority
Apple Pay Later is designed with a focus on privacy and security. Transactions made using Apple Pay Later are authenticated via Face ID, Touch ID, or passcode, and users' transaction and loan history are never shared or sold to third parties, keeping their financial information safe and secure.
The partnerships behind Apple Pay Later
Apple Pay Later has teamed up with the Mastercard Installments program and Goldman Sachs to provide customers with a new payment option. When customers use Apple Pay Later in the US, they will be using a Mastercard payment credential issued by Goldman Sachs.
In conclusion
Apple Pay Later is a game-changer for both consumers and businesses. With its focus on financial health, flexible payment options, and seamless integration into the Apple Wallet, Apple Pay Later offers a convenient and secure payment experience for all.
Apple Pay Later is not yet available in MENA but we can help you get started offering BNPL through our partnerships with Tabby and Postpay. Just get in touch with our payment experts through the live chat available 24/7 on our website.

---